Keep countertops uncluttered with one easy trick!
What is it about flat surfaces in a home? They seem to be mess magnets. Papers pile up. Stuff seems to stick.
In my kitchen, it can be a trick to prepare food when my countertops are cluttered.
Over the years, I've found a very easy way to reduce clutter on my counters – simply keep things off of my counters.
I do this by only keeping what's necessary on my counters. If I don't use it every day, it gets stored away in a cupboard.
So I keep our coffee maker, knives, and cooking utensils on our countertop. (Our dishes usually are left to dry on part of our kitchen counter … and that ends up looking like clutter to me, until I put them away.)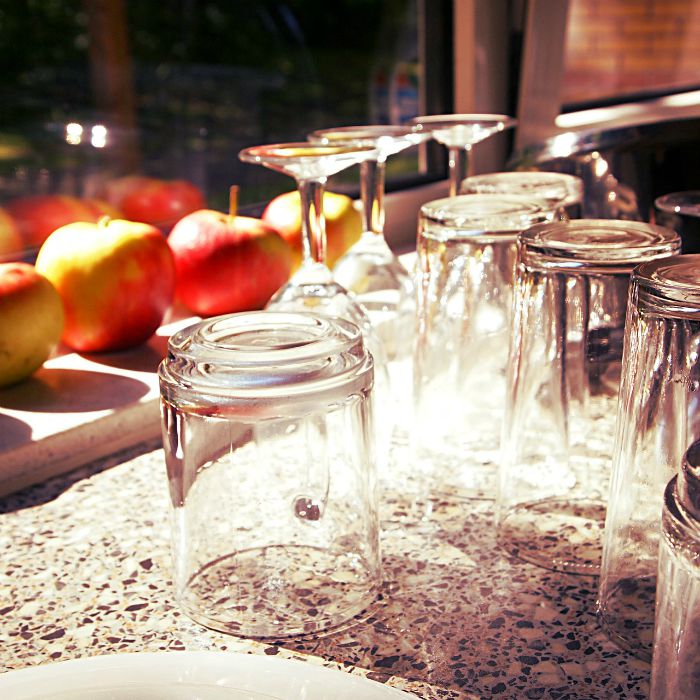 I follow the same technique in my bathroom – I keep as little on the counter as possible, then I store the rest in cupboards.
By keeping things off my countertops, my counters naturally look cleaner.
What do I do with the rest of my stuff?
So what do I do with everything that's not on my countertops … and won't fit in my cupboards?
Because I own a lot of kitchenware — especially extra dishes for entertaining — I keep my extra kitchen items boxed up in a separate space. I've done this since my husband and I squished into a tiny apartment when we were newlyweds, then relocated to an equally small townhome with our children.
In our first apartment, we used shelving units in our spare bedroom to store our seldom-used kitchen things. In our townhouse, we boxed them up and kept them in our garage.
And now, in our current house, we use a shelving unit in our basement and keep our extra kitchen things there. When it's time to throw a big party — or if I need a Bundt cake pan or cookie cutters for my favorite sugar cookies — I head to the basement and know where to find everything.
The storage in a different room isn't ideal, but it definitely helps eliminate clutter and crammed cupboards in my kitchen.
Never-ending paper battle
I still have to deal with paper messes – from junk mail to kids' drawings and schoolwork – but there's less stuff on my counters. And that makes less of a mess. I try to sort through it all every couple of days to keep my flat surfaces clean.
It's not a difficult process … which is good, because I love quick and easy homemaking solutions!

How do you keep your countertops uncluttered?

Disclosure: Purchasing items through links in this post will result in a commission for No Place Like Home. Thank you for supporting this website!
Images by Pixabay