Trying to feather your nest on a tight budget? When you're living on a dime, home decorating frustrations are pretty common. But relax … and try these 6 tricks!
Have you ever watched HGTV or flipped through the pages of home magazines only to feel incredibly frustrated? You see so many beautiful ideas and gorgeous spaces – yet they look nothing like your home.
You might be renting and unable to change your home.
After renting apartments with beige-colored walls for 12 years, I LONGED for a splash of color! And my first home looked like an utter revolt against so many years of blah. Our bedroom was a bright turquoise blue, our family room was red, and our guest room was a light shade of orange. Yeow!
Or you simply may not have a budget to make the changes you'd like.
Maybe you have a bunch of hand-me-down furniture that's a hodgepodge of colors and styles. Your furniture may not be exactly what you need, but you're just making do. Maybe there are rooms – or your entire home – that look nothing like what you'd choose.
Could contentment be the cure?
There's a lot to be said for being thankful for what you have and finding contentment with where you are right now. And there's a lot to be said for thinking a little more like Pollyanna when you're tempted to complain.
For example, when I find myself grouching about purple tile in my family's current bathroom, I remind myself that we have running water and a toilet that flushes. Just that reminder helps me to stop focusing on our outdated tile and it helps me be thankful for what we do have.
It can be easy to have home decorating frustrations, especially if you're on a tight budget. But aside from being more content or grateful, there are a few practical ways to make your less than perfect home look fresh or pleasant. These tips may help you create a haven.
Embracing the imperfection
If you happen to have a bunch of mismatched hand-me-downs, one way to embrace this in your home is to focus on an eclectic decorating style. Know that everything is mismatched … and accentuate that.
Remember the kitschy, mismatched decorating of restaurants in the '90s? Rusty trombones, old signs, and vintage photos in frames graced the walls … and it all looked good together. If you embrace it and get a little creative, all of your unmatching pieces in your home can look intentional. And it can end up looking pretty cool.
Searching for pick-me-ups
If you hope that your living situation is only temporary but you're longing for a quick fix, look for affordable solutions. Visit garage sales, thrift stores, discount stores and clearance sections and keep your eyes peeled for decorating solutions. Maybe some art for your wall is just what you need.
Before you start shopping, figure out what you'd like to add to your home. Would throw pillows add a pop of color or texture? Could an area rug help define a space? Whatever might help brighten your home – and your spirits – keep an eye out when you're out and about.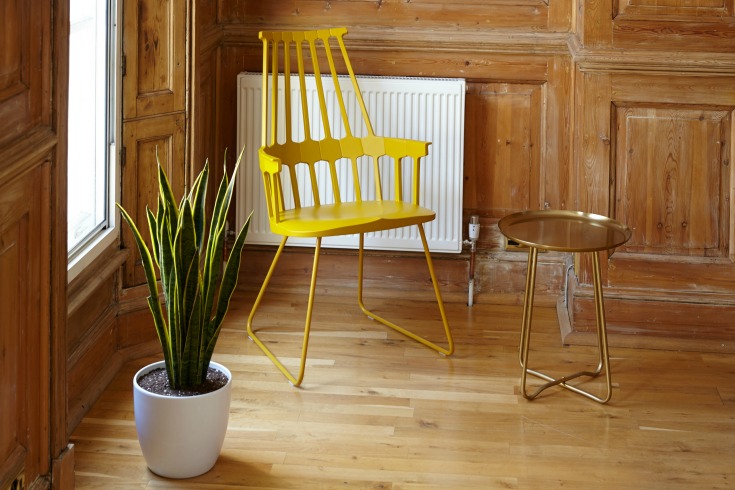 6 low-cost decorating tricks that worked for me
When I was in the middle of apartment living – and had absolutely no budget to decorate – a few key decorating tricks made a huge difference in my home:
I loved using a decorative wall mirror to add extra light to dark rooms.
Even though I had a bunch of affordable picture frames, wall art just wasn't in my budget. So I cut out maps from an old atlas and framed them. Not only were they conversation starters, but they also made quirky – and ultra affordable – art.
Because new furniture was not in my budget and I had accumulated a hodgepodge collection of mismatched hand-me-down furniture, slipcovers became my best friend. By covering chairs and ottomans in contrasting slip covers, I was able to mask how old and uncoordinated the fabric patterns were.
Speaking of mismatched hand-me-down furniture, I also tried to keep similar furniture finishes in the same room. Eventually, I began looking for wood furniture with dark finishes so that everything looked similar.
Don't be afraid to use paint to transform furniture. Check out Pinterest for tutorials, and add a coat of paint to less-than-perfect wood furniture. (Make sure it's wood, though, and not a composite material.)
Even though all of my apartments had cream walls and different colors of carpeting in each new location, I added color to rooms through my accessories. Sticking to two accent colors – blue and yellow – I was able to search for decorative pieces to add to my home and help everything look like it matched in some way.
As you try these simple and frugal tips, you'll be able to change your home decorating frustrations, even if you're on a tight budget.
How have you helped your home decorating frustrations? How do you stretch your budget while decorating your home?
Disclosure: Links in this post may be affiliate links. This means that, at no added cost to you, I may make a commission on products purchased through these links. Thank you for supporting this website!
All images courtesy of Unsplash.